Garrett College CARC is proud to serve our community, students, members, and guests with high quality group fitness classes. All of our group fitness instructors are nationally certified, and we offer a variety of class formats, including yoga, Spinning®, cycling, P90X®, body sculpting and more! See our Group Fitness schedule for a complete list of classes and descriptions.
Online Registration: Follow this link
Group Fitness Schedule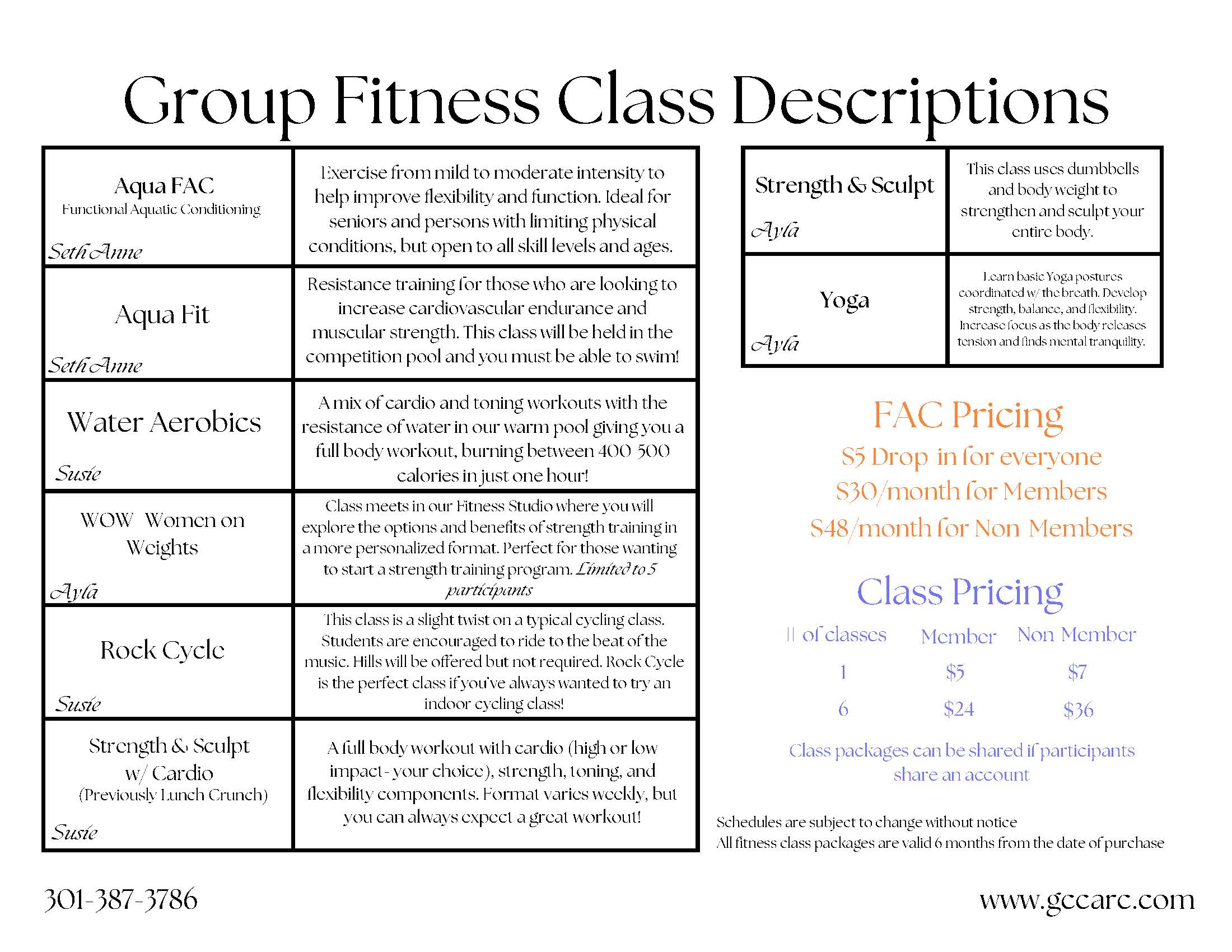 Tier I Classes
| | | |
| --- | --- | --- |
| #Classes | Member | Non-Member |
| 1 | $5 | $7 |
| 6 | $24 | $36 |
Class Descriptions
Aqua FAC (Functional Aquatic Conditioning), Seth Anne
Exercise from mild to moderate intensity to help improve flexibility and function. Ideal for seniors and persons with limiting physical conditions, but open to all skills levels and ages.
Yoga, Tuesday Chloe, Thursday Ashley
Learn basic Yoga postures coordinated w/the breath. Develop strength, balance, and flexibility. Increase focus as the body releases tension and finds mental tranquility.
All Group Fitness Packages are valid for 6 months from the original date of purchase.
All participants must have a current Group Fitness Package to attend classes.
Packages may be shared among family members, or those with shared CARC accounts (member/sub-member, guest/sub-guest)
All participants must sign-in at the Front Desk prior to entering classes.
Classes which do not meet minimum enrollment 3 business hours prior to the class will be cancelled. Notification of cancellation will be sent by text and email. Please be sure you are enrolled in our notification system and we have a correct email address on file.
Cancellations made at least 3 business hours prior to class will result in the class being credited back to the student's group fitness package. Cancellations made less than 3 business hours prior to class will not receive refunds.
Cancellations may be made by phone, in person, or online.
Please wear proper fitness attire, including footwear.
If arriving late, please enter the class quietly so as to not disrupt the class. Instructors reserve the right to not allow late arriving participants.